They say a WordCamp isn't over until you've blogged about it… Here's my roundup for XWP's attendance at WordCamp Europe 2023
---
What is a WordCamp?

A WordCamp is a conference that focuses on the open-source publishing platform WordPress. Everyone from casual users to WordPress core developers participate, share ideas, and get to know each other.
What to expect from WordCamp:
Networking opportunities
Guided Workshops
Discussion panels
Informative talks
Swag, prizes, and after-hour parties!
Next Stop, Athens 🇬🇷
For most of our XWPeople, their journey to WordCamp Athens started in their local airport. We had XWPeople attend in person from 14 different countries, and many more watched the event from home.
XWPeople at WordCamp Asia: 🇩🇪 🇧🇬 🇵🇱 🇬🇧 🇪🇸 🇪🇪 🇷🇸 🇨🇴 🇮🇹 🇺🇸 🇳🇿 🇺🇦 🇨🇦 🇧🇷
—and it didn't take long for people to reconnect! Within hours our XWPeople were back together exploring some of Athen's famous historical sights and snapping some pictures together that don't involve a Zoom meeting! 🇬🇷
XWP Team Day 🥙
Before we got into the craziness of WordCamp, our team met up for a day of exploring, and, of course, because no trip to Greece would be complete without sampling some traditional cuisine— eating!
We kicked off the day with a traditional food tour around Athens led by a local guide before, heading to a rooftop bar for drinks and chat overlooking the Acropolis.
The Enterprise Gap Meetup 💡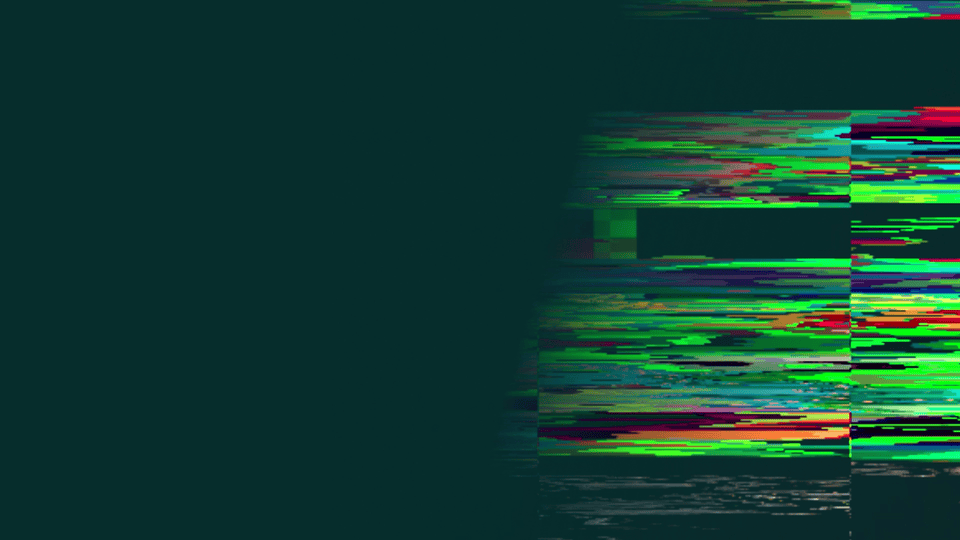 That evening, we joined forces with Crowd Favorite, Human Made, Inpsyde, and The Code Co. to host the WordPress Enterprise Gap Meetup.
Together, we enjoyed lightning talks, panel discussions, and some incredible speakers who are making waves in the enterprise WordPress world. Afterward, we took to the roof of the venue for drinks and socializing.
The event brought together people from all over the WordPress space to officially announce the Enterprise WordPress Agency Alliance (EWPAA), an initiative from five of the largest Enterprise WordPress agencies to build an enterprise layer for WordPress, improving its reputation, and clarity around its affordances in the enterprise market.

As our CEO Myles put it at the event: 
"The EWPAA isn't about each agency trying to get a slice of the enterprise pie, it's about protecting the pie, sustaining the pie, and growing the pie together".

Myles Lagolago-Craig, CEO @ XWP
What is the WordPress Enterprise Gap?
It's the distance between how WordPress is seen, and how effective it is for enterprise users.
We think that enterprise companies can move faster and deliver better digital experiences for their customers and readers by embracing the power of open source.
​We also believe that WordPress is the best platform to enable this, and we must work together as an industry to close the gap between WordPress as a platform and ecosystem, and the needs of its enterprise customers.

Learn More About the Enterprise Gap Meetup at WCEU 2023
Day 0: Contributor Day 🙌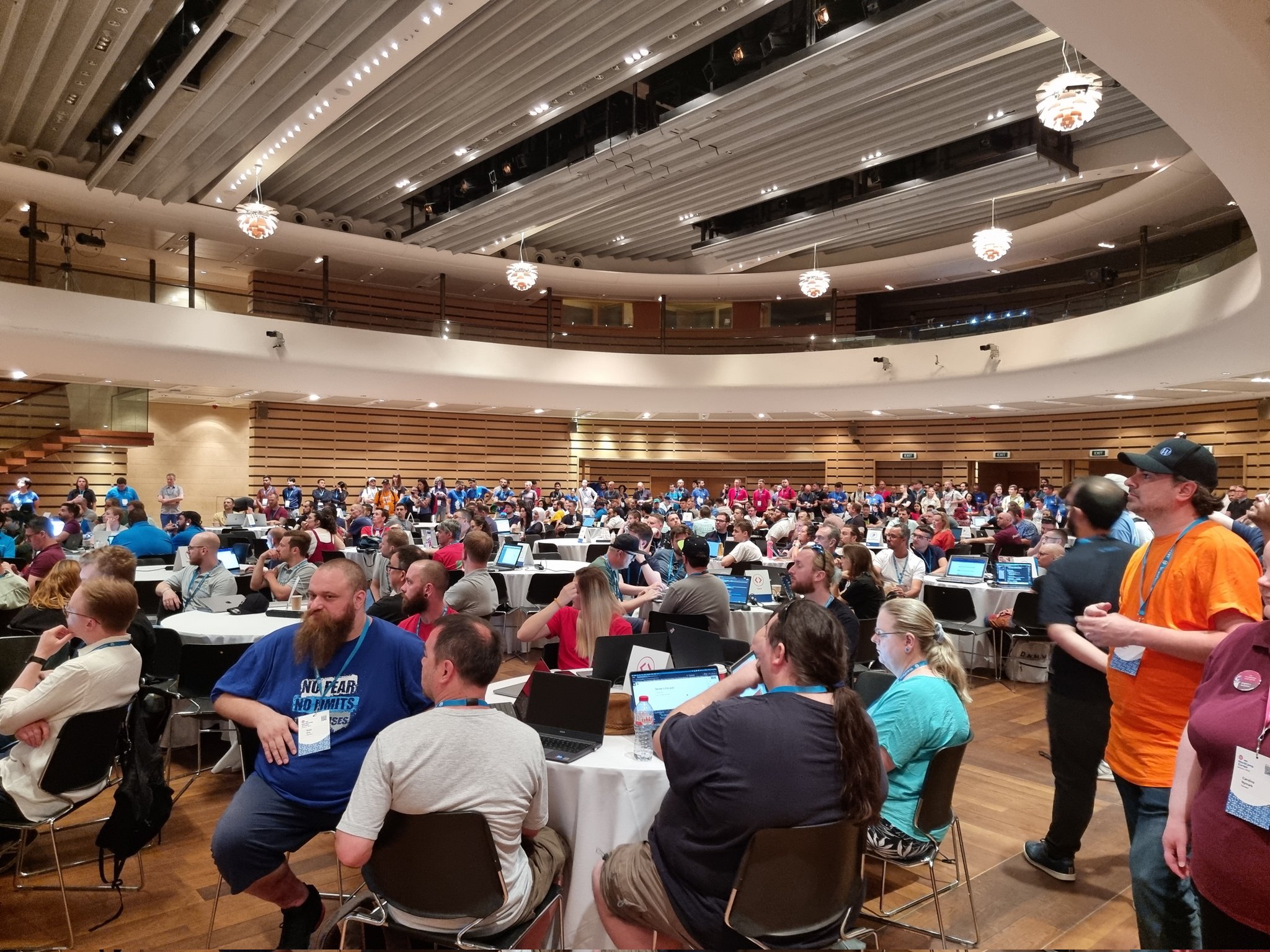 Contributor Day is a special day designated for contributing to WordPress. Attendees arrive at the venue the day before talks and workshops begin to collaborate with new and existing contributors, meet new people, and learn about the different ways to get involved in the project.
This year's contributor day was a massive success, with more new faces than ever learning about how they can get involved in the WordPress project!
For those who haven't been to a contributor day before, it also usually kicks off with some opening remarks from the team leads from each of the contribution teams.

We were thrilled to see a bunch of XWPeople up on stage introducing the teams they lead at WordCamp Europe! Huge shoutouts to Jonny Harris for Core Performance, Milana Cap for Documentation, and Alain Schlesser for WP-CLI!

Learn More About XWP's Contributions to WordPress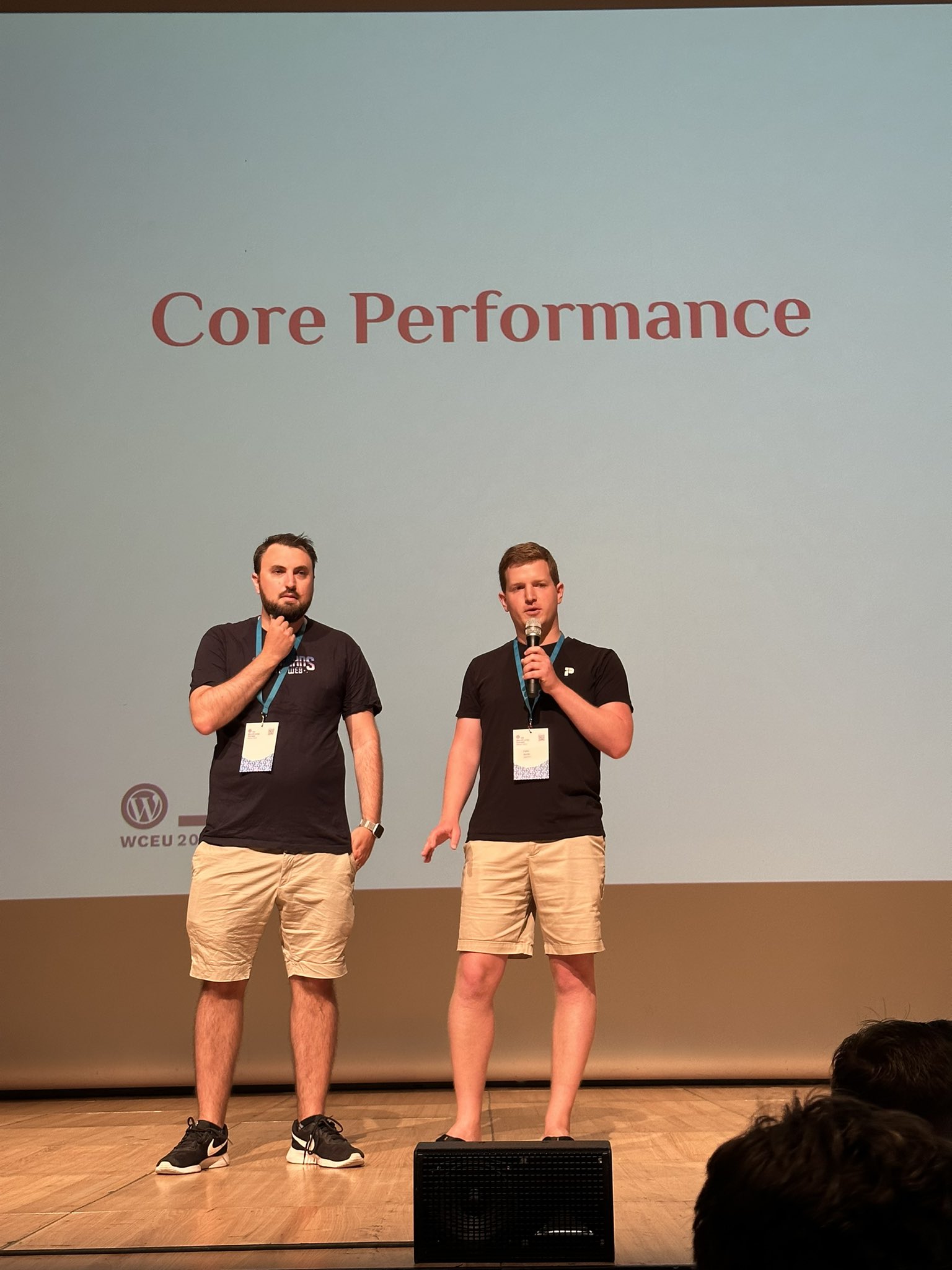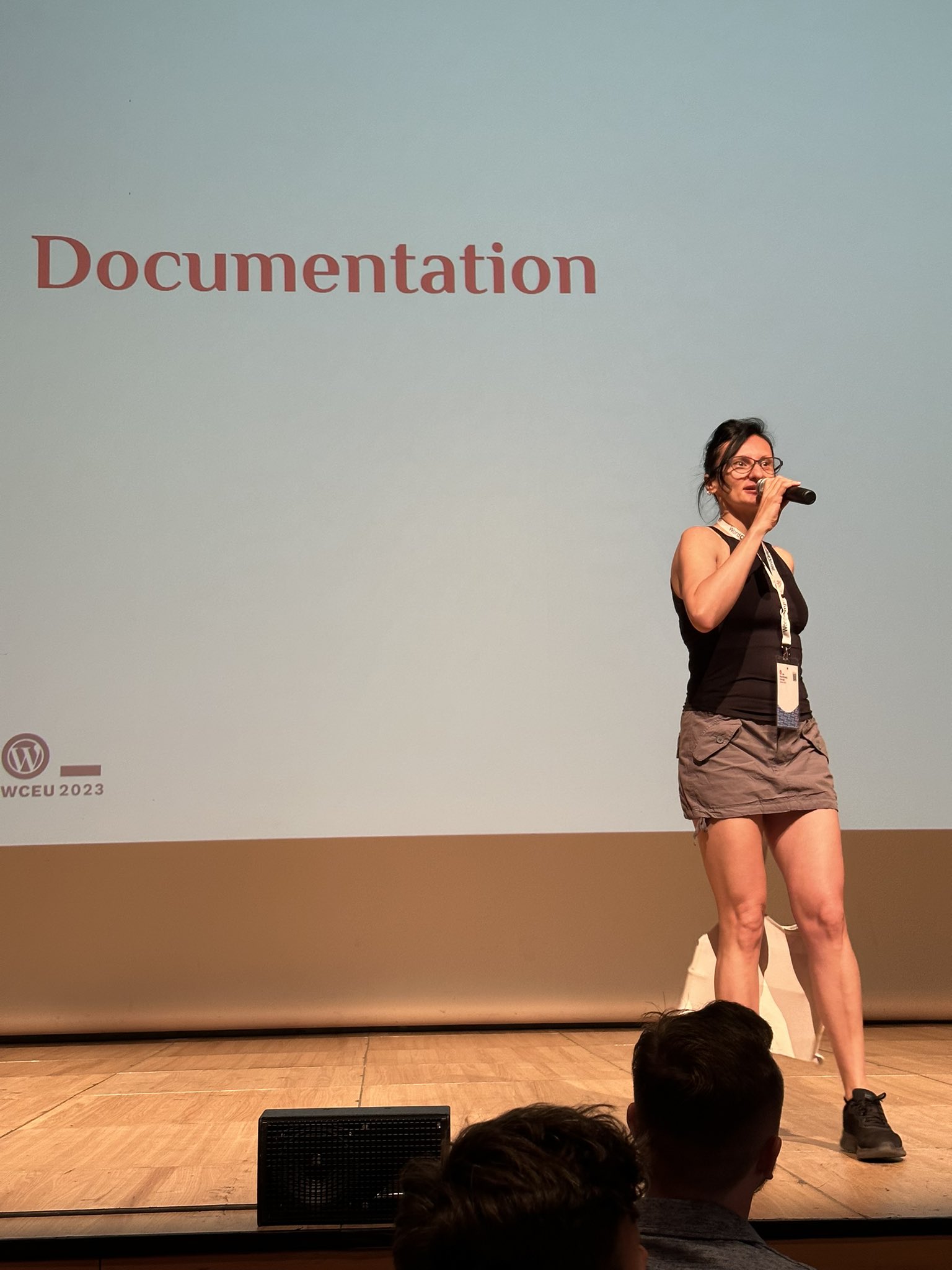 Photo credits: Taco Verdo from Yoast (@TacoVerdo on Twitter)
Day 1 highlights 🚀
XWP Workshops: WP-CLI for PHP developers with Milana Cap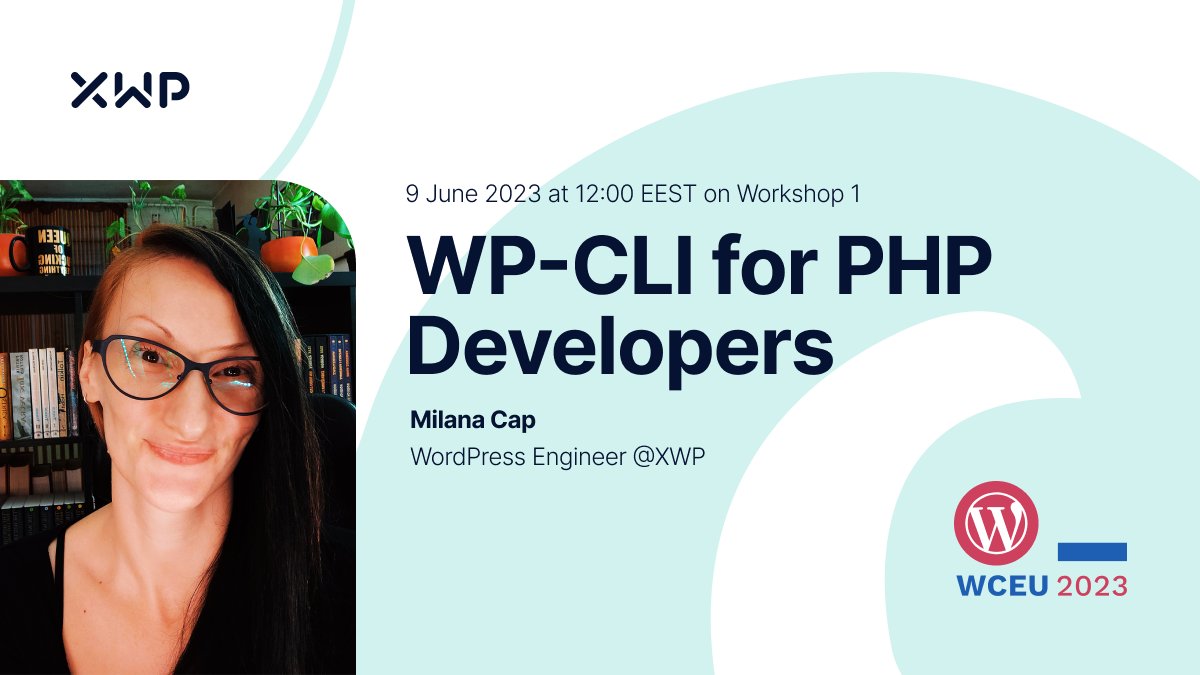 On day 1, our fabulous WordPress Engineer Milana Cap ran her workshop "WP-CLI for PHP Develops" to a packed-out room!
WP-CLI for PHP developers is the sequel of Milana's WordPress through the Terminal talk with a focus on a set of commands and tools, useful for PHP developers.
This is not just a live demo of WP-CLI commands. This is zooming out and seeing WP-CLI in collaboration with other tools in the context of PHP developer needs and everyday tasks.
Unfortunately, there were no live recordings for workshops at WCEU 2023 (☹️), but feel free to get in touch with any questions and we can help put you in touch with Milana!
XWP Panels: Women and Non-binary Folx of WordPress, Hosted by Francesca Marano
On the first day of WordCamp, our very own Director of Engineering (Learning & Growth) Francesca Marano hosted a panel with Yoast's Chaya Oosterbroek, Automattic's Thelma Mutete, Automattic's Anne McCarthy, Extendify's Jessica Lyschik and Level Level's Rian Rietveld.
The panel brought together a diverse group of people for an honest discussion about underrepresented folx involvement in the WordPress open source project, together they discussed their achievements, and struggles and gave advice to those starting out.
This was an incredible talk, which brought up some uncomfortable truths (as well as some causes for celebration) that made us all take a moment to reflect on how we can better encourage inclusive and equitable behavior in WordPress.
XWP & Google: Privacy Audits & Meetup 🕵️‍♀️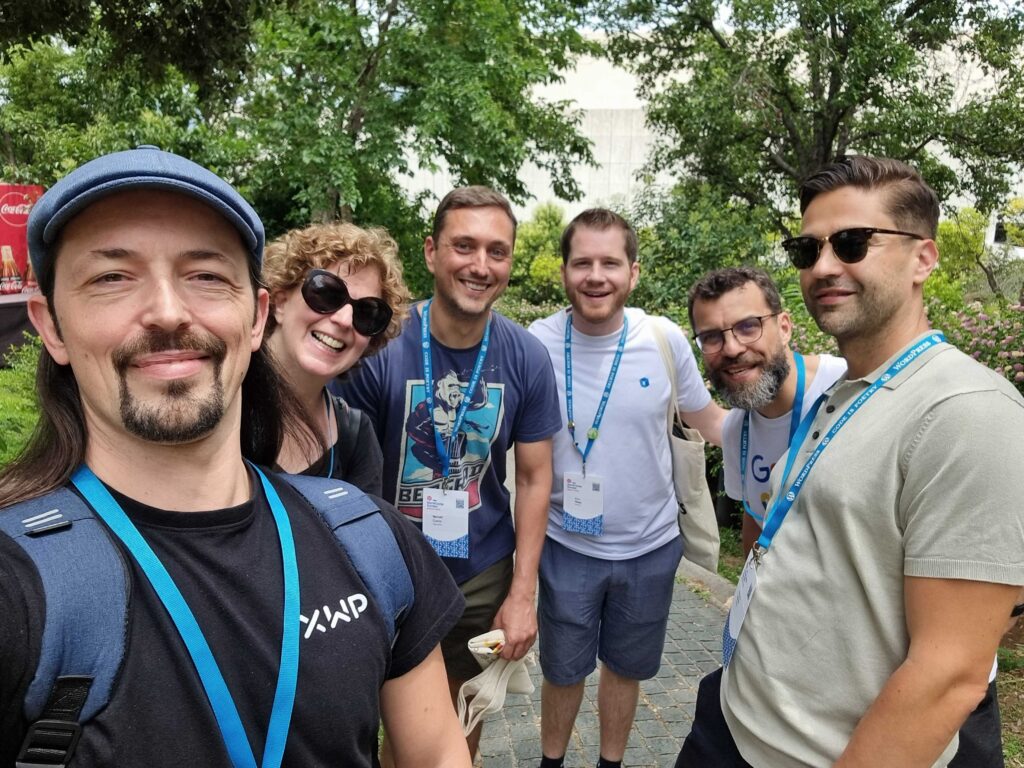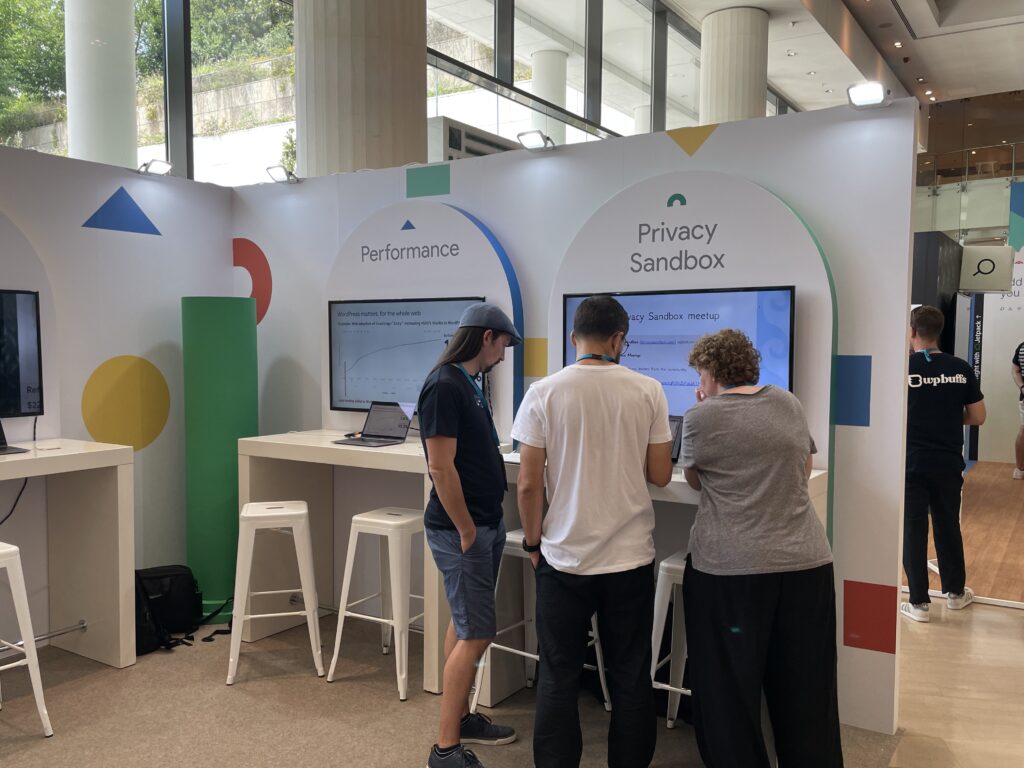 This year, we joined forces with our friends at Google to examine your websites, plugins and themes, helping you to identify Privacy Sandbox solutions that can replace cookies and fingerprinting technologies that will be deprecated in 2024.
Our Director of Technology and Innovation Alain Schlesser and Lead WordPress Engineer Mary (JJ) Jay took point, running audits over the course of the conference.
On the second day, there was also a meetup to chat about all things privacy-related (all while making the most of the beautiful weather in one of Athens' lush green spaces).
The "Wonderful Together" Pride Party 🏳️‍🌈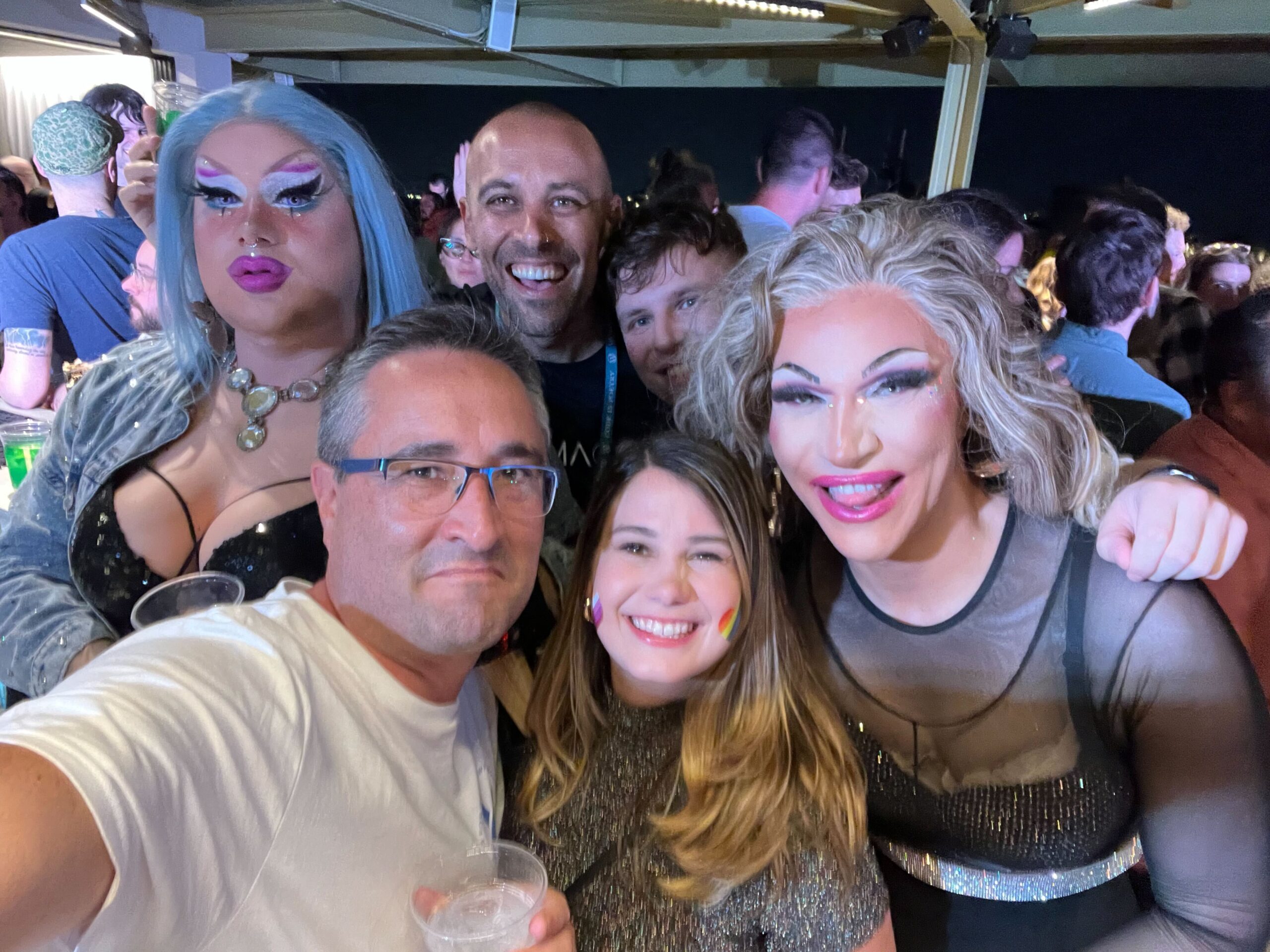 A few of our XWPeople rounded out night one with an evening full of love and unity as we celebrated diversity & inclusion at the "Wonderful Together" Pride party hosted by Yoast, Codeable, Bluehost, and YITH.
It was so much fun to catch up with people from all across the WordPress space for drinks and dancing, some INCREDIBLE views of the Acropolis, and a surprise drag act (which involved some spontaneous pyrotechnics 🎆)
Day 2 Highlights 🇬🇷
XWP Panel: Enterprise WordPress delivery – How some of the leading agencies deliver WordPress to enterprises globally
On the second day of the conference, our CEO Myles Lagolago-Craig, sat down for a panel hosted by HumanMade's Siobhan McKeown, alongside Ben May from the Code Co., Enterprise Freelancer Carrie Dils, and Viola Gruner from Inpsyde.
This was dynamic panel discussion where the participants explored the vast potential of WordPress for enterprise companies, speaking on how enterprise needs are different, the affordances of open source at the biggest scale, and how marketing works in a space where leading by example is so important.
The room was packed for this one, with hundreds listening in and learning about how WordPress currently operates (and where the opportunities for growth lie) when working for at the biggest scale.
Variations on a Theme: 20 Years of WordPress & Matt Mullenweg Q&A 📣
One of the main events of any WordCamp is undoubtedly the keynote address and live Q&A session with Matt Mullenweg, the creator of WordPress and CEO of Automattic, Josepha Haden Chomphosy, Executive Director of the WordPress project, and Matías Ventura, Lead Architect of the Gutenberg project.

At the larger WordCamps the team live-answer questions from the crowd, giving the community a chance to get answers to some of their burning questions. You can watch the full session in the video to see how Matt, Josepha, and Matías responded to the following questions. Q&A Starts at 7:32:00.
WordCamp Europe 2023: FAQs
---
How many speakers were there at WordCamp Europe 2023?

There were more than 95 speakers, including a few of our XWPeople (and a whole lot more who volunteered).
What kinds of sessions are there at WordCamp Europe?

There were talks, workshops, and lightning sessions (in addition to all the sponsor booths, many of whom have brought info, games, and competitions).
How many people attended WordCamp Europe 2023?

More than 2500 people attended in-person in Athens
Where is WordCamp Europe 2024?